Learn CRISPR from the Newest Research Publications
CRISPR/Cas9 is a simple and efficient genome editing tool, which enables researchers to change the genome sequence specifically. In the last two years, nearly 3000 articles have been published on CRISPR biology and applications.
OriGene teamed up with Cell Press and created the CRISPR special edition book, a collection of CRISPR landmark articles and reviews in the recent year. You will find this beautiful book handy and informative.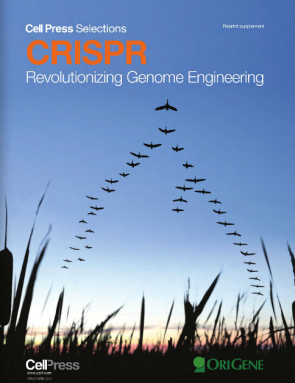 Table of Contents:
Reviews and Perspectives
Biology and Applications of CRISPR Systems: Harnessing Nature's Toolbox for Genome Engineering
Modeling Disease In Vivo With CRISPR/Cas9
The Heroes of CRISPR
Genome Editing in Human Pluripotent Stem Cells: Approaches, Pitfalls, and Solutions
…
Articles and Resources
High-Content Analysis of CRISPR-Cas9 Gene-Edited Human Embryonic Stem Cells
Discovery and Functional Characterization of Diverse Class 2 CRISPR-Cas Systems
Small Molecules Enhance CRISPR Genome Editing in Pluripotent Stem Cells
…
and much more…